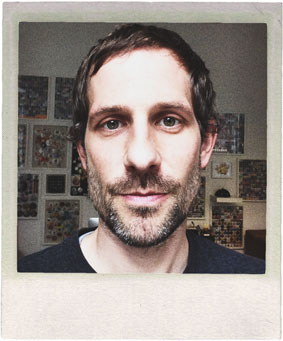 dailybuttons. It started in 2001
In 2001, ordering buttons in small quantities was not easy.
Although advertising media companies, large print shops, and wholesale suppliers from the Far East provided any type of buttons, on orders of less than 5,000 pieces, it was nearly impossible to get buttons.
We needed a solution! Our goal was to produce buttons in small quantities and limited editions for our own bands, as a giveaway and to sell as merchandise.
So we ordered our first manual 1″ button machine in the US, named it "Herbert", and used our kitchen table as a quite romantic place for the first productions – full utilization of man & machine: up to 500 buttons per day.
Thanks to an active music scene in East Westphalia, the word about our buttons-home-production spread quickly. We produced initially only for our own bands, but a short time after that, we supplied buttons to other bands and clubs around our hometown Bielefeld. With increasing demand, the kitchen table quickly moved into our first small office in a backyard garage and the 1″ button machine "Herbert" was replaced by a semi-automatic button machine. With a growing product range and the professionalization of our workflow, we were able to support more and more customers from different areas with more and more buttons.
Moving to Berlin
In 2009, we moved to Berlin. The initial one man company with a manual button machine has become a large team with four half-automatic button machines with a daily production up to 10,000 buttons. dailybuttons produces all popular button sizes and shapes, from the 22mm mini button to the 150mm giant button. We create various specials such as buttonsets, blistersets, button vending machines, and we can print on various specialty papers etc…. of course, HANDMADE.
Our passion is still the button. For us, buttons are more than just advertising: they are ambassadors, opinion makers, fashion accessory, and can tell stories. We do not sell printed pens, coffee mugs, and USB sticks – no way!
We're constantly trying to invent new stuff around the button. Our personal highlight was the Space button – the world's first button in the stratosphere.
dailybuttons goes Museum
What´s next? In addition to our production, we constantly collect, buy, and exchange buttons from all over the world. In addition, we keep a sample of all our orders – and that for over 14 years now! What could be better than to start a small button museum? Although it is still in development, you can already see first results …
So come over – we are very happy to invite you to our office in the Hobrechtstrasse.