BUTTONDESIGNER
(Button creation made easy)
We make custom buttons in all popular sizes and shapes.
Badges made for you in Berlin.
Buttondesigner , Badge Designer or Online Button Designer are programs with which you can create the artwork for YOUR button. They are a good alternative for professional graphic programs, which are quite expensive and usually often complicated. Although there are many different button designers on the market, they are also often complicated to use. We have created a simple and self-explanatory version especially for dailybuttons, which nevertheless delivers professional results.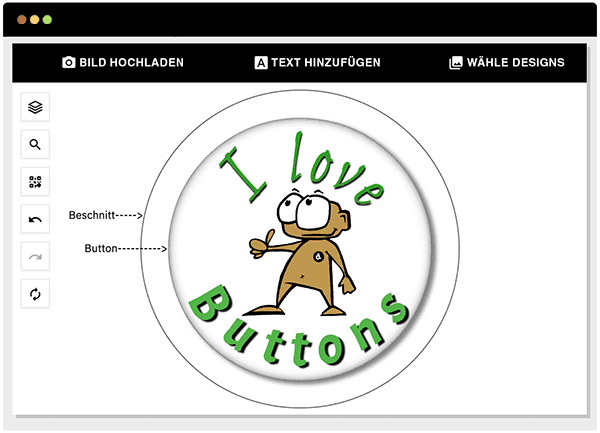 What can I do with the Badge Designer?
You have the possibility to load photos or other images from your computer or tablet into the background of the badges, you can additionally choose ready-made cliparts and add texts in many fonts. You can adjust the color of the fonts to your match your design and place them in a circle on the edge of the button. A curved font looks great on every button. The button generator is self-explanatory. In the designer you will also find the Pixabay image database. There are an infinite number of royalty-free photos and cliparts stored. Just type in a keyword and be surprised how many photos you can choose from. No matter if you want to add text to your photos, design a text-only button or combine all possibilities. The button designer is free and guaranteed a lot of fun!
Design your own buttons online with the Buttondesigner
The best thing about Buttondesigner is that you don't need to know anything about files, formats, DPI or resolution. You can use this nice app to create your buttons without any previous knowledge. Of course this service is free of charge! Because we at dailybuttons can only print the best buttons if the quality of your artwork is right. With the Buttondesigner or Badge Designer there are no more problems.
Which buttons can I order with the badge designer?
You can order all our button variants with the Badge Designer. The selection is huge. After all, we have round, square, square and oval buttons in our assortment. While designing your buttons, you will see an instant mockup. In other words: It couldn't be easier.
The different backsides of the buttons do not play a role in your design. No matter if you want to order classic pinback buttons, bottle openers, pocket mirrors, magnets or key chains – dailybuttons & the button designer are always at your side. If you have a problem, just give us a call or send us an email. We will help you quickly, because SERVICE is very important to us.
Buttondesigner Tutorial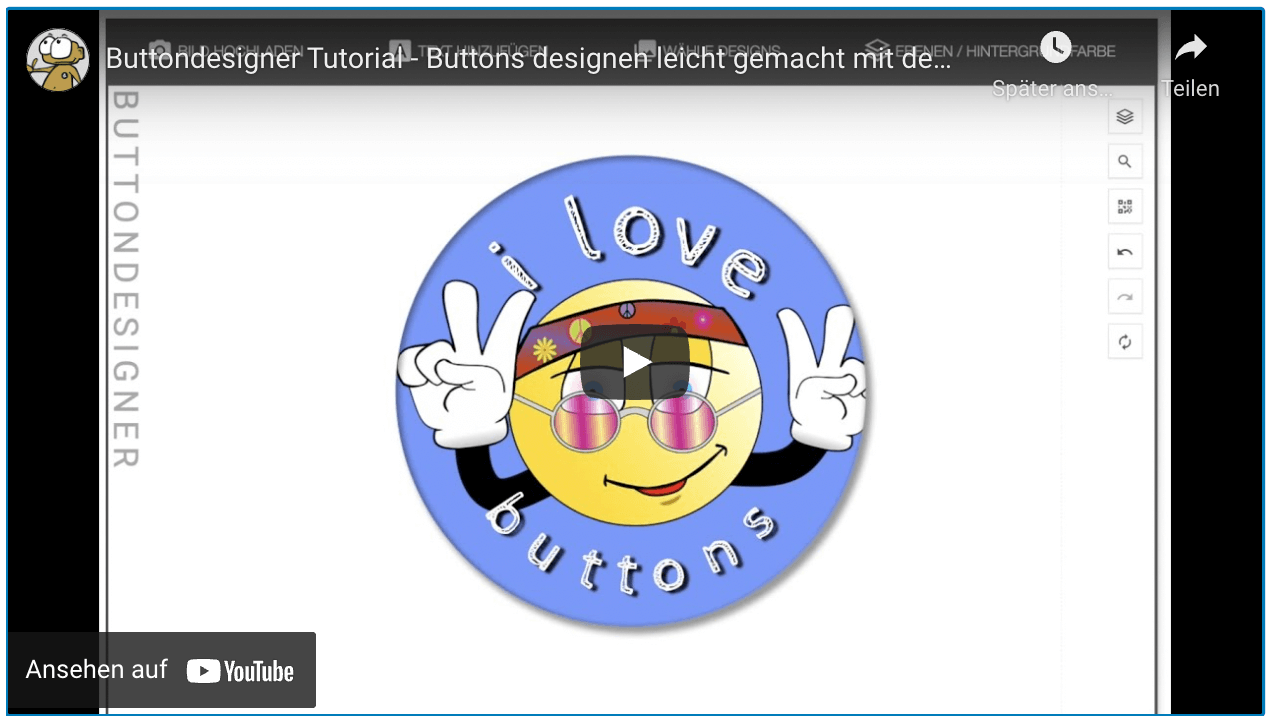 In our Buttondesigner Tutorial we show you how to create a button design with a few simple clicks. We are asked again and again how to set the font curved at the edge of the buttons. In the video you will see that this is very easy. It also shows you how to put an image from the large Pixabay image database on the button. Have fun watching.
Create effects with the Buttondesigner
We have different finishes for your buttons in our shop. You can order neon, glitter, metallic, glow-in-the-dark and matte buttons. You do not have to limit your artwork, but we recommend a black print for the neon- and glow-in-the-dark buttons. Of course, other colors are also possible, but with a black design the effect is clearly the greatest. If you want to order metallic buttons, you can create your design as usual. All white parts of the template will later become silver and the remaining colors will get a metallic shine. For the matte soft touch buttons you don't need to pay attention to anything.
With all variations your artwork is well protected against scratches or fading of the colors.
The Buttondesigner & dailybuttons: Good, fast, cheap. Button creation made easy!