Handmade in Berlin! Since 2001, we have specialized in the production of buttons of all sizes, shapes, and varieties. We offer buttons from the smallest 22mm ones up to the 150mm giant buttons. There are round, rectangular and oval versions to choose from. Our buttons are ideal for bands, publishers, labels, museums, clubs, companies, events, birthdays, or for election campaigns. There is an endless list of possibilities. We can also print your artwork on neon and metallic paper, on film, or alternatively, on environmentally friendly recycled paper.
-DAILYBUTTONS
SECURE PAYMENT – FAST SHIPPING






---
CUSTOM BUTTONS
Got something to say? Say it on a custom needle-back button for all to see! We have lots of different shapes and sizes to offer.
BUTTONSETS
If you are interested in a packaging idea, you should have a look our buttonsets. Besides our popular buttonset with a cardboard header we also offer buttonsets with printed cardboard in the background.
ONLY PINBACKS?
In addition to the standard badges with needles, we can supply key chains, bottle openers, pocket mirrors, fridge magnets and clothing magnets.
LOW PRICES

The more you order – The cheaper it gets;-)
FAST PRODUCTION

DHL, Express + Messenger services available
NO MINIMUM ORDER

All quantities possible – Starting at 1 button
FREE SHIPPING

On all orders over 100,-€ within germany
CUSTOM BUTTONS

Your artwork, your design, your button
DESIGN YOUR BUTTONS ONLINE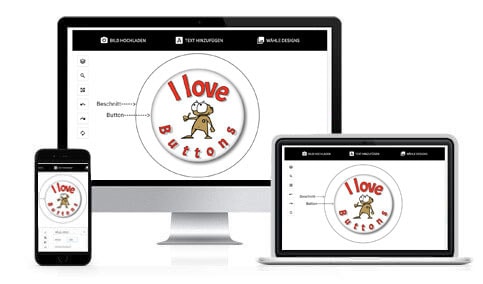 No artwork but lots of ideas? Create your design easily with our new Buttondesigner. The Buttondesigner can be found on the product pages.
---
Questions?
How long does it take to make my buttons?
The production time depends on the order quantity and the current order situation. We ship small orders within 1-2 days. We have a reputation for being very fast. Please ask us about the current delivery time via email.
How long will the delivery take?
The normal DHL shipping within Germany will take approximately 1-3 business days. Express shipping or courier service are always available at additional cost.
How much are the shipping costs?
Shipping costs 4,90€ (incl. 19% VAT.). Free delivery on all orders over 100,-€ (within germany)
Where can I find the prices?
Just click on the desired button and you will find a detailed description and prices on the product page.
Is my package insured?
Yes, we will only ship insured packages.
Can I pick up my buttons at dailybuttons?
Sure that's no problem. We appreciate your visit.
Can I order a single button at dailybuttons?
Yes, our production begins at one Button.
How can I pay for my buttons?
You can pay your buttons with all usual payment methods: Paypal, EC-debit, Mastercard / VISA, Amazon payments, bank transfer, by invoice or in cash.
How many colors can I have on my buttons?
Unlimited, all of our prices include full color printing.
How many different images can I order?
In general, you can order as many designs as you wish. If it will be something extraordinary, such as 1,000 buttons with individual images, please send us an email to get a quote.
Do you offer buttonsets?
Yes, we have several buttonsets. Besides our popular buttonset with a cardboard header we also offer buttonsets with printed cardboard in the background. Do you have any other ideas? Actually, nearly everything is possible. Ask us for an individual quotation.
How do I upload my artwork?
You can upload the images on the product pages or send us the data in an email.
What file formats do you accept?
We can handle all common file formats. We recommend a resolution of 600 dpi for best printing results.
Can i get a sample?
For orders over 2,000 buttons, we usually ship sample buttons to get an approval. On smaller orders, we are happy to send you a proof via email.
Will you keep my images?
Yes, we store all images for any repeat orders.
Why are too many buttons in my package?
We always produce some extra items to replace any buttons possibly damaged while shipping. These buttons are free, of charge.